Optimalisaties voor jouw website of webshop
We combineren belangrijke datapunten en informatie van jouw bedrijf tot een creatieve mix.
Aan de hand van het bezoekersgedrag, lopende advertenties en relevante zoekwoorden zorgen wij voor gerichte verbeteringen van jouw website of webshop voor betere resultaten.
Verschillende mogelijkheden voor een extra boost
Website-optmalisaties
Verbeteringen voor de bezoekerservaring.
Webshop-optimalisaties
Gericht op meer conversie en klantenverkeer.
Landingspagina's
Unieke pagina's voor zoek- en advertentieverkeer.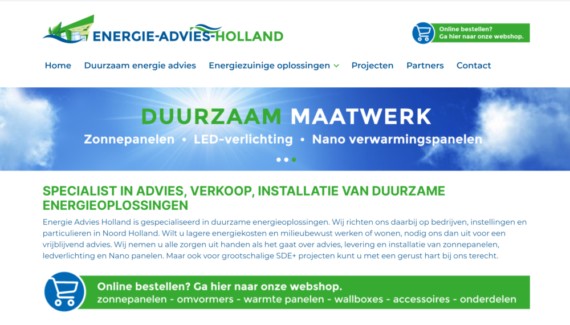 Een duidelijke website die aansluit bij het bedrijf
Voor Energie-Advies-Holland mochten wij hun website een nieuwe uitstraling geven.